WEG SSW06 SSW060255T2257ESZ 10328766 Soft Starter 220-575V 255A -unused/ORIGINAL PACKAGING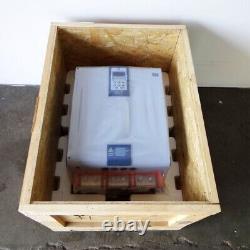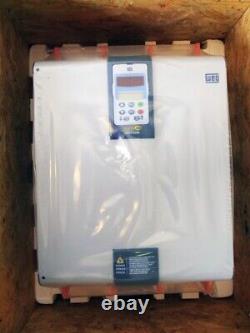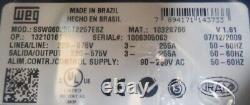 WEG SSW06 SSW060255T2257ESZ 10328766 Soft Starter 220-575V 255A -unused/OVP. (Stock of inventory: age unknown). Geprüfter Verkäufer mit viel Erfahrung.
Sollte ein Gerät widererwarten defekt sein, sorgen wir für Ersatz (wenn verfügbar) oder erstatten Ihnen den vollen Kaufpreis. Weitere Angaben finden Sie evtl. Auf der Internetseite des Herstellers. Eine Prüfung ist uns nicht möglich. Da wir kein Fachbetrieb sind, können und dürfen wir keine technischen Fragen beantworten.
Die angegebenen Versandkosten gelten für eine Lieferung innerhalb Deutschland. Die Preise richten sich nach Gewicht und Verpackungsaufwand. Für Lieferungen außerhalb Deutschlands bitte wir die Versandkosten vorher zu erfragen. Sie erhalten ansonsten nach Abschluss des Kaufs eine Zahlungsinformation mit den Angaben der Versandkosten.
Wir erstellen die Rechnungen mit ausgewiesener Mwst. Innerhalb Deutschland und innergemeinschaftlichen Lieferung ohne gültige Umsatzsteuer-Identifikation. Nach Ablauf der Auktion bzw. Bitte stellen Sie alle Fragen zum Artikel VOR dem Bieten.
Sollte irgendetwas unklar sein, fragen Sie uns bitte. Wir senden wenn möglich auch weitere Bilder. Info zum Zustand der Ware. Der Artikel wurde bereits eingesetzt und weist entsprechende Gebrauchsspuren auf. Der Artikel befindet sich in einer Verpackung und weist augenscheinlich keine Gebrauchsspuren auf, es ist jedoch möglich, das der Artikel zu Prüfzwecken bereits einmal verbaut war. Der Artikel befindet sich in der originalen Hersteller - Verpackung. Die Verpackung wurde nicht geöffnet und bei einigen Artikel ist ein Hersteller Siegel / Aufkleber noch intakt. Der Artikel ist neu und unbenutzt, mit oder ohne Verpackung sowie unter Umständen auch schon älteren Models durch Lagerung. Mit uns haben Sie eine sichere Wahl getroffen. Profitieren Sie von unserem tollen Kundenservice und unserem kompetenten Team. Anfragen an unseren Kundendienst werden schnellstmöglich innerhalb unserer Öffnungszeiten bearbeitet.
Mo-Do, 07:00 - 16:00 Uhr / Fr. 07:00 - 14:00 Uhr. Versand innerhalb 1 Werktages nach Zahlungseingang bis 12 Uhr(MEZ). Sollte ein Gerät widererwarten defekt sein, sorgen wir für Ersatz (wenn verfügbar), oder erstatten Ihnen den vollen Kaufpreis.
Ist Ihr kompetenter Anbieter für SPS, Steuerungen und mehr. Kontaktieren Sie uns gerne jederzeit per Kontaktformular. This item is in the category "Business & Industrie\Automation, Antriebe & Motoren\Mechanische Antriebstechnik\Motorstarter\Softstarter". The seller is "maaslos-gut_de" and is located in this country: DE. This item can be shipped worldwide.
, Algeria, Angola, Benin, Botswana, Burkina Faso, Burundi, Cameroon, Cape Verde Islands, Central African Republic, Chad, Comoros, Democratic Republic of the Congo, Republic of the Congo, Côte d'Ivoire (Ivory Coast), Djibouti, Egypt, Equatorial Guinea, Eritrea, Ethiopia, Gabon Republic, Gambia, Ghana, Guinea, Guinea-Bissau, Kenya, Lesotho, Liberia, Libya, Madagascar, Malawi, Mali, Mauritania, Mauritius, Mayotte, Morocco, Mozambique, Namibia, Niger, Nigeria, Reunion, Rwanda, Saint Helena, Senegal, Seychelles, Sierra Leone, Somalia, South Africa, Swaziland, Tanzania, Togo, Tunisia, Uganda, Western Sahara, Zambia, Zimbabwe, Afghanistan, Armenia, Azerbaijan Republic, Bangladesh, Bhutan, China, Georgia, India, Japan, Kazakhstan, Kyrgyzstan, Maldives, Mongolia, Nepal, Pakistan, South Korea, Sri Lanka, Tajikistan, Turkmenistan, Uzbekistan, Anguilla, Antigua and Barbuda, Aruba, Bahamas, Barbados, Belize, British Virgin Islands, Cayman Islands, Costa Rica, Dominica, Dominican Republic, El Salvador, Grenada, Guadeloupe, Guatemala, Haiti, Honduras, Jamaica, Martinique, Montserrat, Netherlands Antilles, Nicaragua, Panama, Puerto Rico, Saint Kitts-Nevis, Saint Lucia, Saint Vincent and the Grenadines, Trinidad and Tobago, Turks and Caicos Islands, Virgin Islands (U.), Albania, Andorra, Austria, Belarus, Belgium, Bosnia and Herzegovina, Bulgaria, Republic of Croatia, Cyprus, Czech Republic, Denmark, Estonia, Finland, France, Gibraltar, Greece, Guernsey, Hungary, Iceland, Ireland, Italy, Jersey, Latvia, Liechtenstein, Lithuania, Luxembourg, Macedonia, Malta, Moldova, Monaco, Montenegro, Netherlands, Norway, Poland, Portugal, Romania, San Marino, Serbia, Slovakia, Slovenia, Spain, Sweden, Switzerland, Vatican City State, Bahrain, Iraq, Israel, Jordan, Kuwait, Lebanon, Oman, Qatar, Saudi Arabia, United Arab Emirates, Yemen, Bermuda, Canada, Greenland, Mexico, Saint Pierre and Miquelon, American Samoa, Australia, Cook Islands, Fiji, French Polynesia, Guam, Kiribati, Marshall Islands, Micronesia, Nauru, New Caledonia, New Zealand, Niue, Palau, Papua New Guinea, Solomon Islands, Tonga, Tuvalu, Vanuatu, Wallis and Futuna, Western Samoa, Brunei Darussalam, Cambodia, Laos, Macau, Philippines, Vietnam, Hong Kong, Indonesia, Malaysia, Singapore, Taiwan, Thailand, Argentina, Bolivia, Brazil, Chile, Colombia, Ecuador, Falkland Islands (Islas Malvinas), French Guiana, Guyana, Paraguay, Peru, Suriname, Venezuela, United Kingdom.
Marke: WEG
Herstellernummer: SSW060255T2257ESZ
Beschreibung des Paketinhalts: Softstarter
Herstellungsland und -region: Brasilien
intern: 53146 ##/hb - PAL 389