Softstarter PROFI 16A Sanftanlauf Einschaltstrombegrenzer Anlaufstrombegrenzer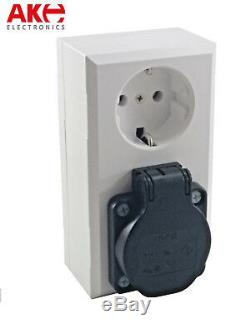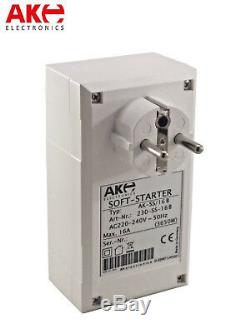 Elektronischer PROFI SOFT STARTER mit automatischem Bypass nach Start Reale D A U E R L A S T 3650W (16A) unzerstörbar!! Keine Einstelllungen, keine Anpassungen, keine Messungen notwendig! Wenn die Sicherung nicht hält, dann SOFTSTARTER / SANFTANLAUF!
Große Maschinen, Baumaschinen oder viele Elektrowerkzeuge erzeugen oft beim Einschalten einen Stromstoß bei dem die Sicherung "rausfliegt". Bei solchen Geräten wird die Arbeit zur echten Qual! Wenn der Leitungsschutzschalter (Sicherungsautomat) bei solchen Stromstößen nicht schon gleich abschalten, dann ermüdet er mit der Zeit und funktioniert möglicherweise bald gar nicht mehr. Um Ihre Elektroanlage optimal vor Schäden zu schützen, und die Arbeit mit der "zickigen" Maschine weiter führen zu können, setzen Sie einen Softstarter ein.
Der Softstarter erlaubt Ihnen die Netzverfügbarkeit voll auszunutzen und dabei noch Strom zu sparen. Die meisten elektrischen Verbraucher/Geräte/Maschinen verbrauchen im Einschaltmoment extrem viel Energie (Strom), die nicht wirklich ausgenutzt wird! Mit dem Softstarter vermeiden Sie auch noch den unnötigen Stromverbrauch.
Der Softstarter schont Ihre Elektrowerkzeuge/Maschinen vor starkem Verschleiß der Kohlebürsten und der Mechanik (kein Stoßstart mehr). Problemloser Betrieb von großen Maschinen/ Elektrowerkzeugen auch in Altbauten, wo oft die Leitungen und Sicherungen schwach sind. Längere Lebensdauer Ihrer Elektronik-Geräte im Haushalt.
Geringerer Stromverbrauch durch Vermeidung der Einschaltspitzen. (Variante B) Zusätzliche Dauerstrom-Steckdose erlaubt den Einsatz zusätzlicher Geräte die kein Sanftanlauf brauchen z. Auf Baustellen: Akku-Ladegerät, Beleuchtung, Staubsauger, Kühlpumpen, etc... Auto- Erkennung, wann die Maschine eingeschaltet wird.
(zusätzlich Dauersteckdose bei Variante B). Robustes Gehäuse mit Schutzkontakt (auch an Steckdose/n). Geeignet für Geräte mit Standby-Funktion bis 5mA (Standby-Strom). Problemloser Betrieb von Maschinen/Geräte mit Kondensator. Geeignet für PA-Equipment: Endstufen, Verstärker, Mischpulte, etc. (komplette Anlagen können gleichzeitig eingeschaltet werden). Enorme Erhöhung der Verfügbarkeit und Lebensdauer für Ihre Geräte! 16A (Dauerbetrieb) / 35A (Kurzzeit). Abmessungen in mm: BxHxT 65x125x105 (Variante B) 65x125x87. 230-SS-16 (B) Softstarter + Dauersteckdose. Electronic PROFI SOFT STARTER with automatic bypass after start. Real DURABLE 3650W (16A) indestructible!! If the fuse does not last, then SOFT-STARTER! Large machines, construction machines or many power tools often generate a surge when the fuse breaks. With such devices, the work becomes real torture! This surge not only causes a momentary load but also permanent damage to the entire line circuit, from the circuit breaker, through the line itself, to all terminals in the circuit terminals (braising).
If the circuit breaker (circuit breaker) does not switch off immediately in the event of such an overvoltage, it will become tired over time and may soon stop functioning. To optimally protect your electrical system against damage and continue working with the "bitchy" machine, use a softstarter.
With the softstarter, you can fully exploit network availability while saving power. Most electrical consumers / devices / machines consume extremely much energy (electricity) at startup, which is not really exploited! With the softstarter you also avoid unnecessary power consumption. The soft starter protects your power tools against heavy wear of the carbon brushes and the mechanics (no kickstart anymore).
Easy operation of large machines / power tools even in old buildings, where the lines and fuses are often weak. Longer life of the circuit breaker / fuses. Longer service life of the machines / power tools. Longer life of your electronics in the house. Consumer electronics, household electronics, etc.
Lower power consumption by avoiding inrush peaks. Additional permanent socket allows the use of additional devices that do not require a soft start. On construction sites: battery charger, lighting, vacuum cleaners, cooling pumps, etc. Automatic detection when switching on the device. Auto reset at machine stop.
High DURATION switching capacity, REAL (3650W). (additional permanent socket in variant B). Robust housing with earthing contact (also on socket / s). Suitable for devices with standby function. Suitable for PA equipment: amplifiers, amplifiers, mixers, etc.
(complete systems can be switched on simultaneously). Huge availability and life for your expensive equipment! 16A (continuous operation) / 35A (short-time operation). Dimensions in mm: WxHxD 65x125x105 (variant B) 65x125x87.
230-SS-16 (B) Soft starter + permanent socket. The item "Softstarter PROFI 16A Sanftanlauf Einschaltstrombegrenzer Anlaufstrombegrenzer" is in sale since Wednesday, November 22, 2017. This item is in the category "Haushaltsgeräte\Sonstige\Sonstige". The seller is "trennrelais-experte" and is located in Lemgo .
This item can be shipped to all countries in Europe.
Ausländisches Produkt: Nein
Marke: AK elektronik
Herstellernummer: nicht zutreffend
Angebotspaket: Nein
Modifizierter Artikel: Nein
Herstellungsland und -region: Deutschland