3RW3018-1BB14 Siemens Démarreur progressif soft starter AC3 7.5 kwatt 400VAC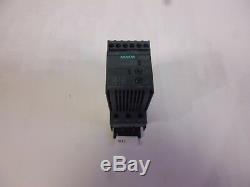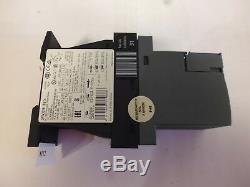 Démarreur progressif soft starter / soft starter / soft starter / sanftanlasser - 3RW3018-1BB14. Démarreur progressif soft starter, puissance: AC3 4 kwatt -230VAC / 7.5 kwatt 400VAC, Tension max: 400VAC, marque: Siemens - matériel neuf sans l'emballage d'origine, prix spécial déstockage, , avec des possibles traces de stockage(ref: N°8112 - 3RW3018-1BB14). Soft starter, vermogen: AC3 4 kwatt -230VAC / 7.5 kwatt 400VAC, Spanning max: 400VAC, merk: Siemens - nieuw materiaal niet in origineel verpakking, speciale prijs voor vooraadvermindering, met mogelijke vooraadsporen(ref: N°8112 - 3RW3018-1BB14). Soft starter, rated power: AC3 4 kwatt -230VAC / 7.5 kwatt 400VAC, Voltage max: 400VAC, brand: Siemens - new product not in original packaging, special price for destocking, with possible storage traces(ref: N°8112 - 3RW3018-1BB14). Sanftanlasser, leistung: AC3 4 kwatt -230VAC / 7.5 kwatt 400VAC, Spannung max: 400VAC, marken: Siemens - neues Produkt nicht im Ursprungsverpackung, spezieller preis für lagerabbau, mit mögliche Spur der Lagerung(ref: N°8112 - 3RW3018-1BB14).
Levering naar : Nederland, Belgie, Europa -> verminderde transport kosten bij aankoop van meerdere objecten, zie hieronder volledige tarieven. Lieferung nach : Deutschland, Belgien, Frankreich, Europa -> versandkosten sie objekt beschreibung für anderes landen oder ankauf mehreren artikeln rufen Sie uns oder anschauen unten.
Les prix du transport sont mentionnés à titre indicatif, ils peuvent dans certains cas exceptionnels liés au volume ou à la destination être adaptés, mais vous pouvez toujours demander une offre personnalisée parfois plus intéressante en cas dachats groupés (belgique possibilité par kiala sur demande). Les envois pour un montant inférieur à 50 euros ne sont pas sécurisés et dépendent de l'acheminement correct par la poste, le risque du transport est à charge de l'acheteur sauf mention contraire de notre part. Pour les produits disponibles en stock, l'expédition est effectuée endéans les 1 à 4 jours après réception du paiement, en cas d'urgence nous prévenir par telephone svp. Pour les produits qui ne sont pas disponible en stock, le délai de livraison approximatif est normalement indiqué dans l'annonce.
Nous acceptons les retours endéans les 10 jours, sauf pour les lots et pour les produits vendus comme pièces de rechange, les frais de retour sont normalement à la charge de l'acheteur, sauf accord préalable de notre part. The prices of transport are mentioned as an indication, it can in certain exceptional cases related on the volume or the destination be adapted, but you can always ask for an personalized quotation, that can be sometimes more interesting in the event of packages. Algemene informatie in het nederlands. Alvorens ons een negatieve feedback te geven, neem aub contact met ons, we zullen proberen een oplossing te vinden die U kan voldoen, we proberen elke transactie te behandelen zo goed als mogelijk, maar fouten zijn altijd mogelijk tel 00 322 521 00 45.
De transport prijzen worden ter informatie vermeld, deze kunnen in bepaalde uitzonderingsgevallen in verband met het volume of de bestemming aangepast worden, maar u kunt altijd een specifieke aanbod aanvragen dat in geval van verenigde aankopen kan gunstiger zijn (Belgie mogelijkheid kiala op aanvraag). De zendingen voor een lager bedrag dan 50 euro worden niet veiliggesteld en hangen van het juiste vervoer per post af, het risico van het vervoer is ten laste van de koper behoudens een tegengestelde vermelding van onze kant. Voor de producten beschikbaar in voorraad, wordt de levering uitgevoerd binnen 1 tot 4 dagen na ontvangst van de betaling, in het geval van spoed gelieve te verwittgen per telefoon aub.
Voor de producten die niet beschikbaar zijn in voorraad, wordt het approximatieve leveringstermijn normaal in de aankondiging aangegeven. Wij aanvaarden de terugkeer binnen de 10 dagen behalve voor de produkten in loten of als vervangstuken verkocht worden, de kosten van terugkeer zijn normaal ten laste van de koper, behalve voorafgaande overeenkomst van onze kant. Bevor Sie uns eine negative Bewertung geben, kontaktieren Sie uns bitte, wir werden versuchen eine Lösung zu finden, die Sie zufriedenstellen können stellen, wir versuchen, jede Transaktion so gut wie möglich zu behandeln, aber Fehler sind immer möglich tel 00 322 521 00 45. Die Preise für den Transport werden als Beispiel erwähnt, er kann in bestimmten Sonderfällen, die mit dem Volumen oder mit der Bestimmung zusammenhängen, angepasst werden, aber Sie können immer ein interessanteres Angebot anfragen bei gruppierten Käufen. Die Sendungen für einen Betrag unter 50 Euro werden nicht sichergestellt und hängen von der richtigen Beförderung durch die Post ab, das Risiko des Transportes ist zulasten des Käufers heilen gegenteilige Erwähnung unsererseits.
Für die Produkte, die auf Lager verfügbar sind, nachschickend wird innerhalb 1 bis 4 Tage nach Aufnahme der Zahlung, im Falle der Dringlichkeit durchgeführt bitte Vorwände uns fragen mit telefon. Für die Produkte, die auf Lager nicht verfügbar sind, wird das ungefähre freist der Lieferung normalerweise in der Anzeige angegeben. Wir akzeptieren die Rückkehr innerhalb der 10 Tage ausgenommen Produkte in lot verkauft oder als Ersatzteile, die Rückkehrkosten gehen normalerweise zulasten des Käufers außer Bewilligung unserer Seite. The item "3RW3018-1BB14 Siemens Démarreur progressif soft starter AC3 7.5 kwatt 400VAC" is in sale since Monday, October 9, 2017.
This item is in the category "Équipements professionnels\Automates, moteurs, commandes\Commandes, contrôles mouvement\Démarreurs\Démarreurs progressifs". The seller is "rgb-online" and is located in Anderlecht. This item can be shipped worldwide.
Marque: Siemens
Numéro de pièce fabricant: 3RW3018-1BB14